Mini Futuro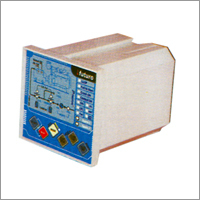 Mini Futuro
Price And Quantity
Product Specifications
Product Description
Mini Futuro
We offer an innovative range of Mini futuro-3Ph. which has been designed and developed in accordance with the needs of our clients. Customized as per the specifications of our clients, this is a user friendly auto mains failure

Solution for single phase generator sets. These have been manufactured adopting Micro- controller technology to achieve reliable and accurate:

Start stop operation of DG set
Load changeover from DG and MAINS
Fault annunciation for safety of DG Set

Designed with reduced number of components, Mini- futuro For 1-Phase model works on the terminal voltage of 12V or 24V. After sensing the main supply, it starts giving pulses to Gen-Set starter (Start Solenoid), when Mains Voltage (in-built) goes below the set limit.

Once the Gen-Set starts, there is developed a rated voltage and the power is supplied to load from Gen-set. In case any fault occurs on the engine side, Gen-set stops automatically, indicating the fault with a respective fault LED & buzzer. Pressing the accept button, fault can be acknowledged stopping the buzzer but the fault LED remains ON. Accomplishing fault rectification and resetting the system, Gen-set starts once again. Once the main supply is resumed, the load is changed-over to mains and the DG Stop Contacts stops the engine after pre decided idle run time which is settable on the front. No manual mode operation required, however in case for manual operation, control supply is disconnected and Gen-set is stared externally. Load change over will happen without DC supply.

3 phase model has been designed for automatic DG start stop and fault annunciation. Potential free contacts from any mains sensing device such as (three phase voltage relay) carries on main sensing and the load changeover is designed externally.

Special features:

Compact designs
Designed using latest Micro-controller technology
Simplest single phase AMF controller
MIMIC type of front fascia
Easy to use
INDICATIONS for main ON, Gen-set start & stop, Gen-set ON, Load on mains/Get-set & all faults (Main fail, low lube oil pressure, Battery low, Set fails to start, Alternator fail and low fuel)
Contactors not required for single phase application
Annunciation with flasher & buzzer both; including Accept, Reset & Test facility
Facility for connection of external Hooter
Design facilitates easy and quick installation
Maintenance Free
Existing non-AMF panels(standard panel)
Can be easily converted in to AMF panels using Mini-Futuro
Total wireless interiors
Manual Mode not required.
AMF-N96-3 Potential Free Contacts for all the faults for external integration.
Specification
| | |
| --- | --- |
| Battery | 12V / 24V DC |
| Control | Accept /Reset/ Test |
| Cranking | On Time - 1,2,4,6 Sec / Off Time -4,6,8,10 Sec |
| Mounting | Panel Cutout Depth |
| Stop Solenoid | 15 / 30 Sec |
| Supply Voltage | 12V/ 24V |