Earth Fault Relays EFR96-1/i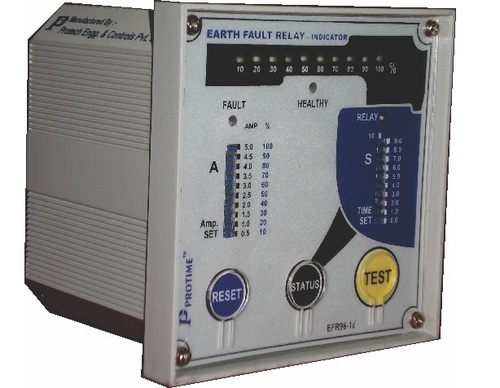 Earth Fault Relays EFR96-1/i
Price And Quantity
Product Specifications
Earth Fault Relays, EFR96-1/i

Low Power
Product Description
Protime s EFR N96 Relay Is One Of The Most Economic Efr With Robust Built In Market. EFR N96 Senses Earth Fault Current For Any Equipment Like L.T Panels Switch Boards, Generators, Motors, Transformers, Etc. The Fault Current If Goes Above The Selected Range On The Current Dial, The Relay Energises After The Time Delay Selected On The Time Dial. The Ct Is To Be Connected Externally As Per Diagram. The Test Button Provides Facility To Stimulate The Fault Condition & Thus Checks The System Tripping. The Reset Button Provides Manually Resetting The Relay. When Link Between A/M Terminals Is Connected.
Manual Reset: Connect Link Between Auto/Man Terminals.
Automatic Reset: Open The Link Between Auto/Man Terminals.