Three Phase Four Wire Voltage Relays N22-VR3-4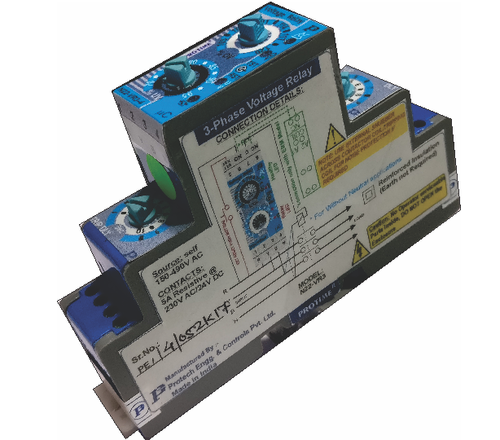 Three Phase Four Wire Voltage Relays N22-VR3-4
Price And Quantity
Product Specifications
Three Phase Four Wire Voltage Relays N22-VR3-4

Low Power
Product Description
PROTIMEs new N22 range of voltage relays are futuristically designed voltage protection relays. New N22 relays are the result of its in depth research for users specific field requirements and flexibility to suit different
applications.
It is the only Most compact with ultra-flexible features with Micro controller based True RMS Measurement.
It has Phase Sequence protection + 3 phase under and over voltage protection with selectable range + Asymmetry fault protection (Fixed 25% of Nominal Voltage).
It is the only Voltage relay providing Smart identification U/V-OV fault condition in each phase.
It also provides User selectable Auto/Manual Reset using programming modes and User settable separate Pick-up & Trip delay (1-10sec).
Relay is designed with inbuilt Test and Reset facility and External Reset facility.